Tours for You and the People You Love
Festive Prague: Christmas Markets Tour
Classic package – perfect for travelers who appreciate taking one-on-one time with the city and want to be in command of their schedule. All Classic packages include City Pass to help you plan your experiences.

Premium package – a great choice for people who are seeking a more balanced itinerary and include various authentic activities every day. 
Luxury package – an excellent pick for those who believe that their comfort is one of the most important parts of the experience. Exclusive activities, private transfer, and 5-star hotels will ensure an unforgettable trip. 
Classic Package
Premium Package
Luxury Package
Classic Package
3 DAYS/2 NIGHTS

FROM  389 EUR PER PERSON

FROM 340 GBP PER PERSON

 
Day 1 


Arrival
Welcome to magical Prague, famous for its musical legacy, stunning architecture, and wonderful Christmas celebrations. Upon arrival, you have a transfer to your downtown hotel for check-in. 
There is nothing planned for the rest of the day, so grab your Prague City Pass and head to explore what this amazing city has to offer. 
Please note: Prague City Pass is included in the package.
Overnight in a 4-star downtown hotel.
No meals are included
____________________________
 
Day 2 


Christmas Food Tour

                         

This morning, you have breakfast in your hotel and enjoy some free time to explore the city. But make sure  to avoid too many snacks, as at lunch, we invite you to see and taste the best of Czech Christmas! 

A knowledgeable local guide will take you around the beautifully decorated city to show the best the Czech capital can offer during the advent season. Explore the picturesque cobbled streets of the Old Town, enjoy a stroll in Lesser Town, and admire the magical Christmas displays in every shop and restaurant as your guide tells you interesting stories about the advent season in the city. 

During the tour, you will visit a traditional Christmas market where you can feel the excitement and laughter in the air, blending with the mouthwatering smell of grilled sausages and mulled wine. Together with your gracious host, you will try all the popular Christmas delicacies and even have a chance to do some last-minute shopping. Apart from the winter fair, you will visit four other local venues and taste the traditional karp Christmas soup, delicious main course and wonderful dessert, and many other traditional Czech dishes you can find on any Christmas table in this wonderful country. 

After the tour (which will last about 4 hours), you are welcome to keep exploring the city on your own. 

Overnight in a 4-star downtown hotel.

Breakfast and lunch are included.

 

____________________________

 

Day 3


Departure

This is the last day of your Christmas break to Prague. A private driver will meet you in a hotel lobby and take you to the airport or a train station, depending on your travel plans. We wish you a safe trip back home and can't wait to start working on your next weekend break.

 

Breakfast is included.
Premium Package
Luxury Package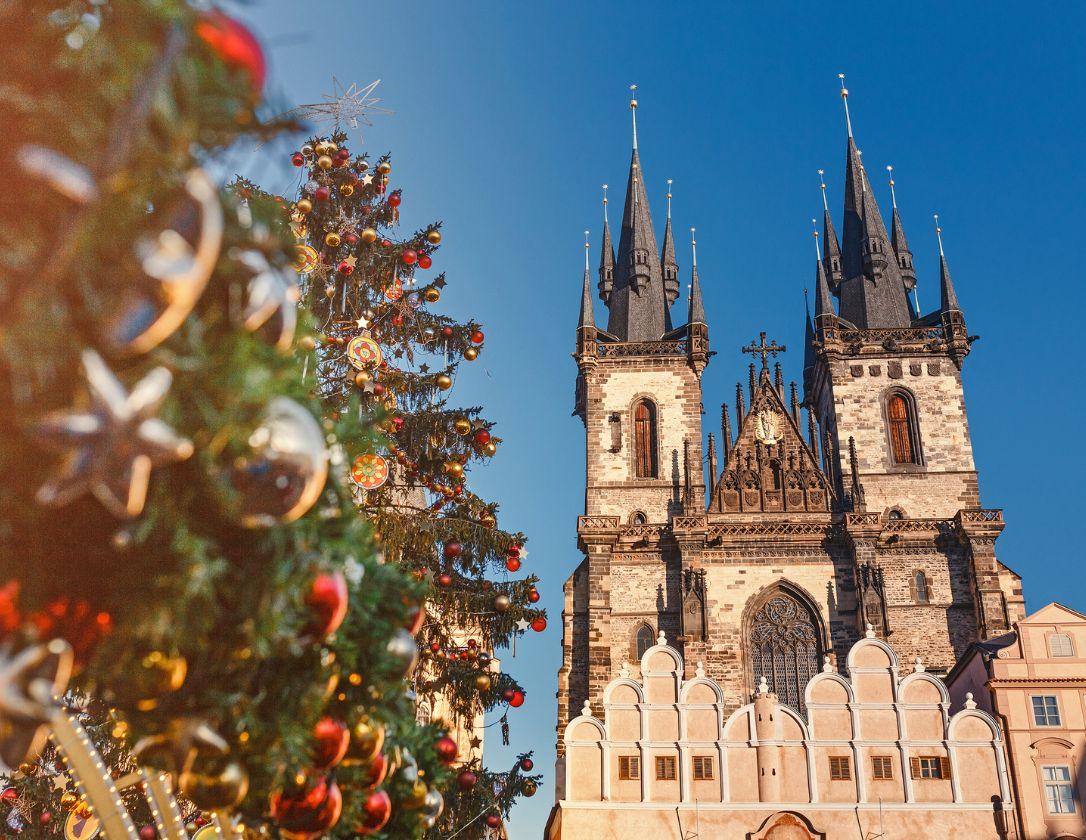 – itinerary features 1 or 2 basic activities
– City Pass is Included
– 4-star hotel in the city center
– arrival/departure transfers
– support line
From 389 EUR /
From 340 GBP
– balanced itinerary for the whole trip
– private guides
– 4-star hotel in the city center
– arrival/departure transfers
-support line
From 489 EUR /
From 428 GBP
– crème de la crème sights and activities
– private guides
– 5-star hotel in the city center
– all transfers according to the program
– support line

From 633 EUR /
From 554 GBP
– Plane/train tickets to the Czech Republic and back
– Transportation costs not mentioned in the itinerary
– Meals not mentioned in the tour description
– Personal Expenses
– Tips
PRAGUE CHRISTMAS TRAVEL TIPS
– One of the must-try foods in Christmas Prague is Tredel'nik. This popular Czech pastry is famous all over the world and is a relative of another European dessert, the Hungarian chimney cake. Both are hollowed-out pastries coated with sugar and cinnamon, but Trdel'nik is usually topped with soft ice cream to enhance the deliciousness even further.
– Did you know that the Czech Republic has its own version of mulled wine? It's called Svarak, and you can find it on every corner during the advent season in Prague. The local version of gluhwein has a more acidic citrus flavor that balances out the sugars beautifully.
– If you have a chance to treat yourself to an evening cruise of the Vltava River, don't miss it! Prague, decorated with thousands of lights, is pretty magical in December, and admiring the city view from the water is a sure way to fall in love with this unique city.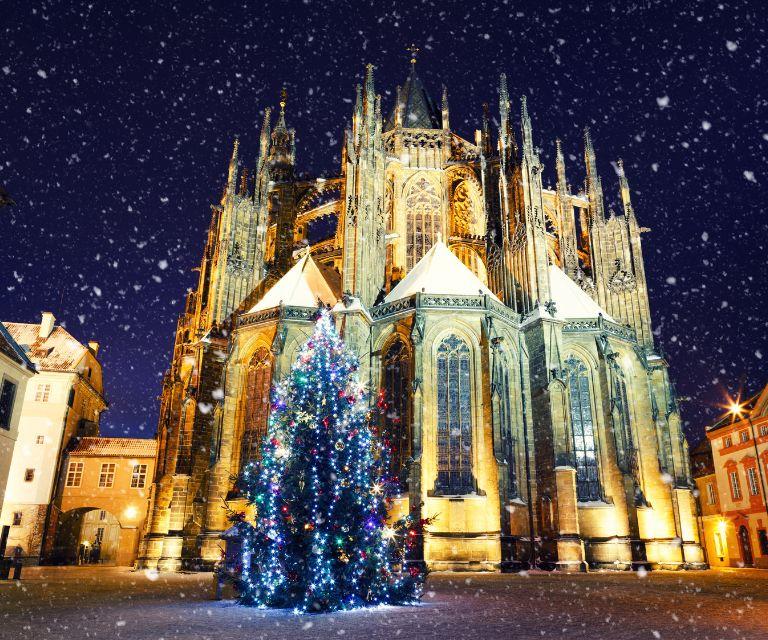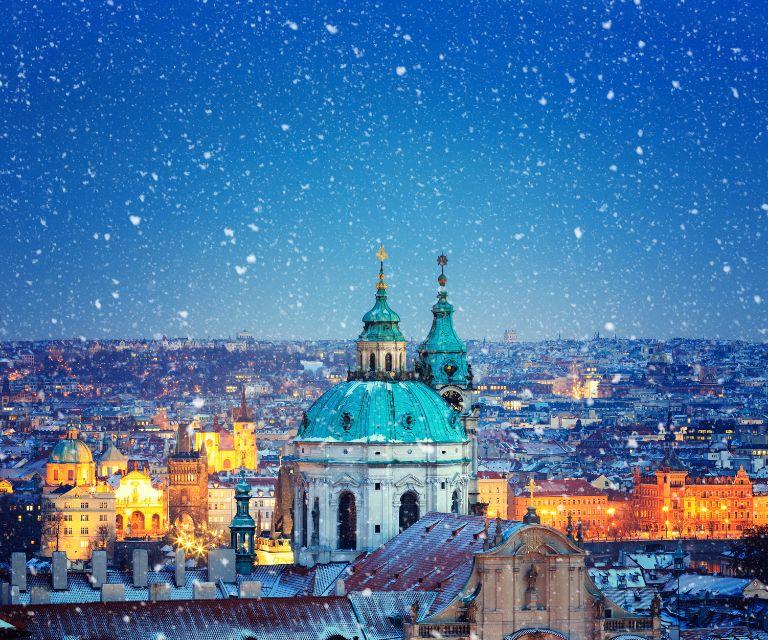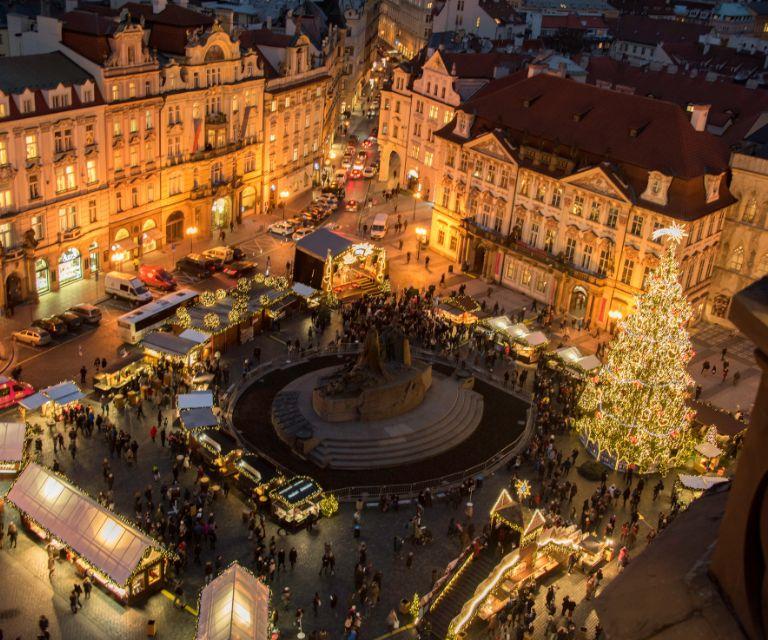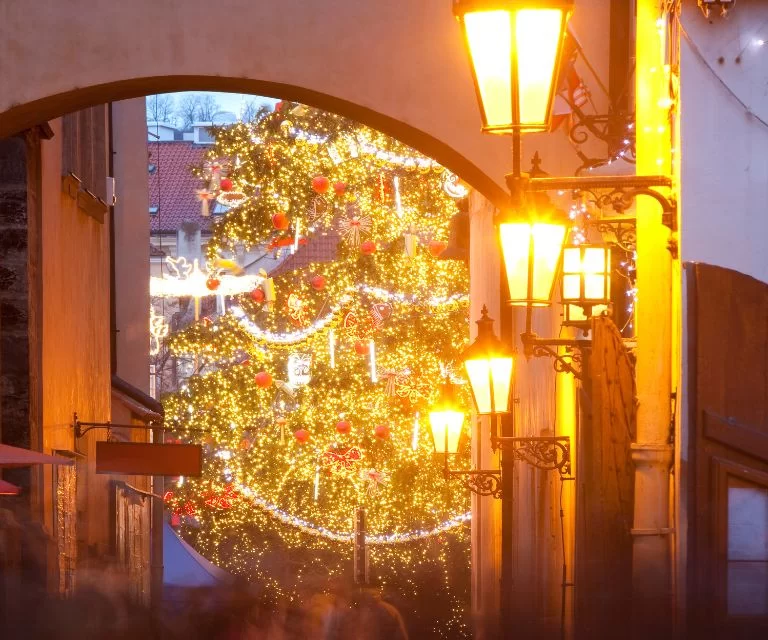 Let's Plan Your Dream Getaway
ENJOY THE BEST THAT EUROPE HAS TO OFFER
"A wonderful experience and one of my favourite trips ever. Loved every minute of it!"
Andrea Stevenson