Tours for You and the People You Love
Festive Zurich: Christmas Markets Tour
Classic package – perfect for travelers who appreciate taking one-on-one time with the city and want to be in command of their schedule. All Classic packages include City Pass to help you plan your experiences.

Premium package – a great choice for people who are seeking a more balanced itinerary and include various authentic activities every day.
Luxury package – an excellent pick for those who believe that their comfort is one of the most important parts of the experience. Exclusive activities, private transfer, and 5-star hotels will ensure an unforgettable trip.
Classic Package
Premium Package
Luxury Package
Classic Package
3 DAYS/2 NIGHTS

FROM 976 EUR PER PERSON


FROM 838 GBP PER PERSON



Day 1


Arrival
Welcome to wonderful Zurich, home to the biggest indoor Christmas market in Europe! Upon arrival to the festive city, you enjoy a private transfer to your hotel right in the city center. There is nothing planned for today, so you have a perfect opportunity to grab your city pass and go explore what the city has to offer. Walk the beautifully decorated streets, drink a mug of hot chocolate at one of the city's winter fairs, and take in the unique atmosphere of festive Zurich.

Please note: Zurich City Pass is included in the package.
Overnight in a 4-star downtown hotel.
No meals are included
____________________________

Day 2


Christmas City Tour

This morning, you enjoy breakfast at your downtown hotel and head to meet your guide at the city center. Your host for the afternoon will take you on an exciting journey around the most interesting sights that can help anyone to get into the Christmas spirit. Your guide is a local who will take you around the popular tourist attractions as well as a few hidden gems that will enhance the experience. The places on your itinerary include (but are not limited to) the biggest indoor Christmas market in Europe and Bahnhofstrasse, filled with thousands of lights at this time of year, so get ready for an exciting tour. What is more, during the tour, you will learn plenty of interesting things about the Swiss Christmas culture, learn what the Samichlaus tradition is, and find out what exactly Zwingli and Bullinger, the leaders of the Reformation in Switzerland, thought about Baby Jesus and why is it so important.

After the tour, you have the rest of the day at leisure. Explore the city on your own terms, stop by a few more Christmas markets, enjoy a ride on a carousel at a winter fair, and let yourself get lost in the joy and laughter of the festive time.

Overnight in a 4-star downtown hotel.

Breakfast is included.

____________________________

Day 3


Departure

This is the last day of your Christmas break to Zurich. A private driver will meet you in a hotel lobby and take you to the airport or a train station, depending on your travel plans. We wish you a safe trip back home and can't wait to start working on your next weekend break.
Premium Package
Luxury Package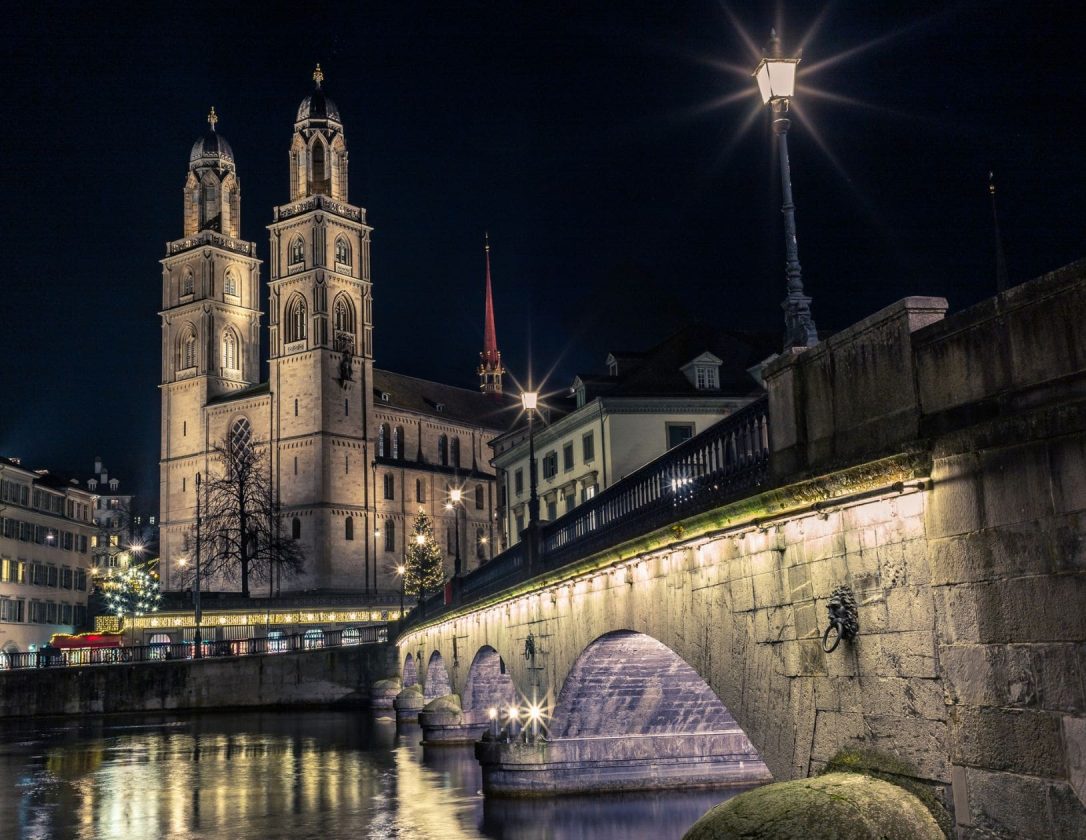 – itinerary features 1 or 2 basic activities
– City Pass is Included
– 4-star hotel in the city center
– arrival/departure transfers
– support line
From 976 EUR /
From 838 GBP
– balanced itinerary for the whole trip
– private guides
– 4-star hotel in the city center
– arrival/departure transfers
-support line
From 1104 EUR /
From 949 GBP
– crème de la crème sights and activities
– private guides
– 5-star hotel in the city center
– all transfers according to the program
– support line

From 1779 EUR /
From 1529 GBP
– Plane/train tickets to Switzerland and back
– Transportation costs not mentioned in the itinerary
– Meals not mentioned in the tour description
– Personal expenses
– Tips
ZURICH CHRISTMAS TRAVEL TIPS
– One of Zurich's unique Christmas elements is a Singing Tree concert, and you can find this must-visit sight at Werdmuhleplatz. As you can imagine, there is no actual singing flora involved. The stage that hosts the event is beautifully arranged and decorated to look like a Christmas tree, and the real stars are the talented performers and choirs from all around the region singing traditional Christmas carols and other popular songs every evening.
– Another interesting Christmas sight is the main attraction of Zurcher Christkindlimarkt, priding itself on being the biggest indoor Christmas market in Europe. Its main feature is a stunning Christmas tree adorned with an array of 5000 sparkling Swarovski Christmas ornaments, creating a magical atmosphere.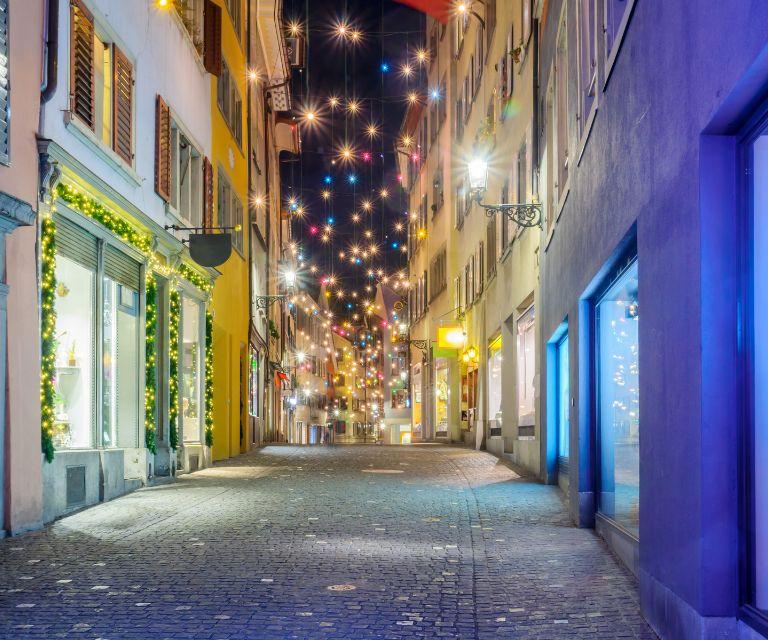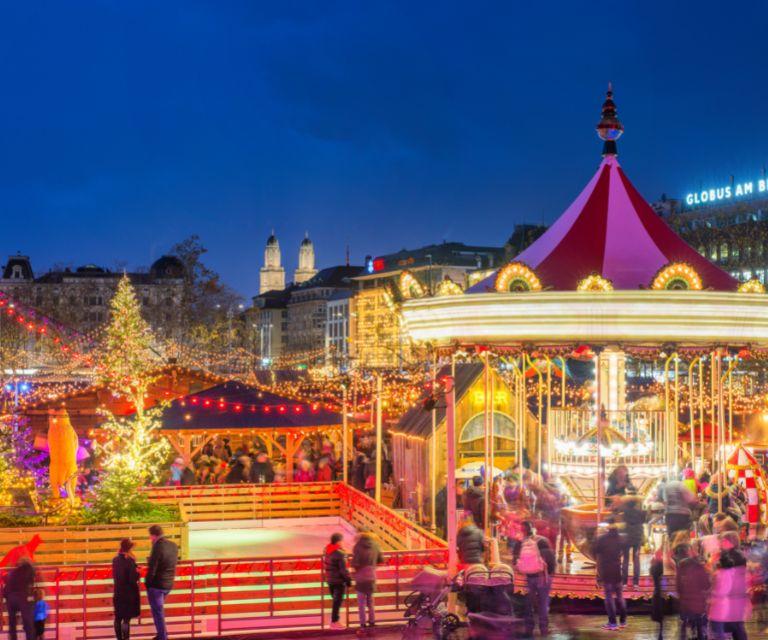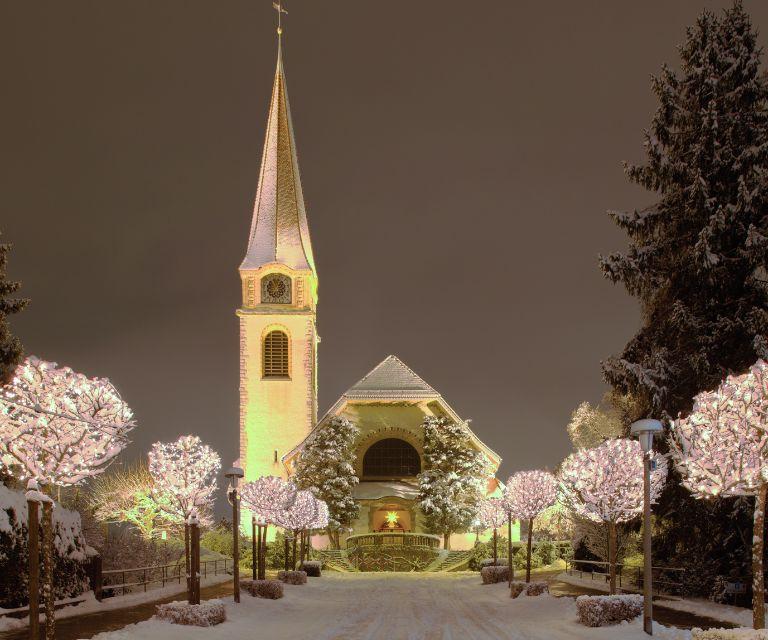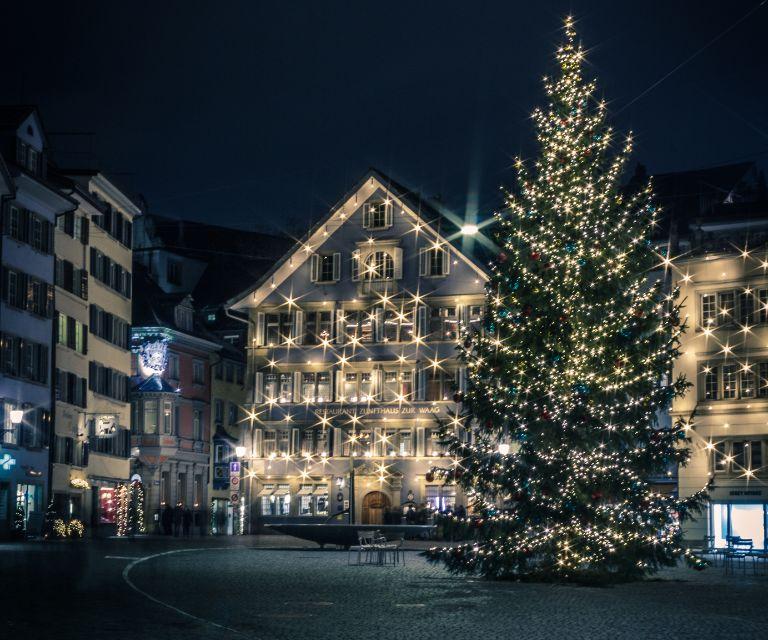 Let's Plan Your Dream Getaway
ENJOY THE BEST THAT EUROPE HAS TO OFFER
"A wonderful experience and one of my favourite trips ever. Loved every minute of it!"
Andrea Stevenson